Commercial Water Damage Jacksonville
Having water damage in your place of business is an alarming situation. When you have standing water in a location, it is a violation of Jacksonville city law as well as an OSHA violation. But thankfully, if you need someone for immediate commercial water damage Jacksonville trusts no one other than Drimaxx!
We have been in service for several years and have helped countless businesses reopen in record time after having a leak or severe water damage. We understand that hours of operation extend to all times of day and because of this we extend our emergency 24/7 service to everyone in the Jacksonville metropolitan area. Our list of services can be viewed below!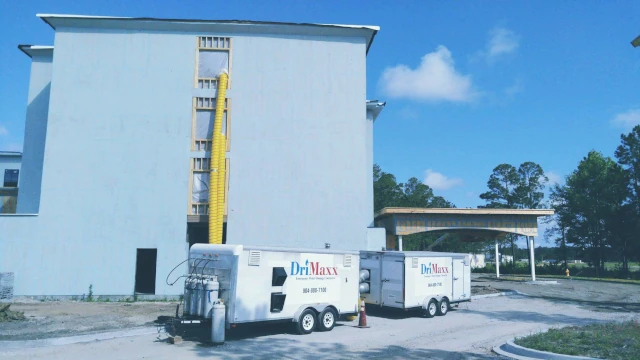 Our Commercial Water Damage Restoration Services
Water Removal – Standing water has many negative impacts on the floor and walls of your commercial building. Not only will it degrade the materials such as tile, hardwood, and intermediary caulking, but it can also cause many biological threats. Insects such as mosquitos and cockroaches are attracted to standing water and increased humidity as well as running the risk of mold and mildew growth.
Mold Remediation – When you have mold or mildew in a location, not only is it visually displeasing to the client and customer, but it is also a health concern for the employee. Air quality will be negatively impacted, and if it goes on for too long, it can prove to be life threatening for everyone involved.
We have been working in Jacksonville for several years and love doing what we do. We are capable of rebuilding and repairing heavily damaged materials so you can save on costs and increase operation uptime! If you would like to know more about our services, our company, or have an emergency call, don't hesitate to dial (904) 880-7100 right away!